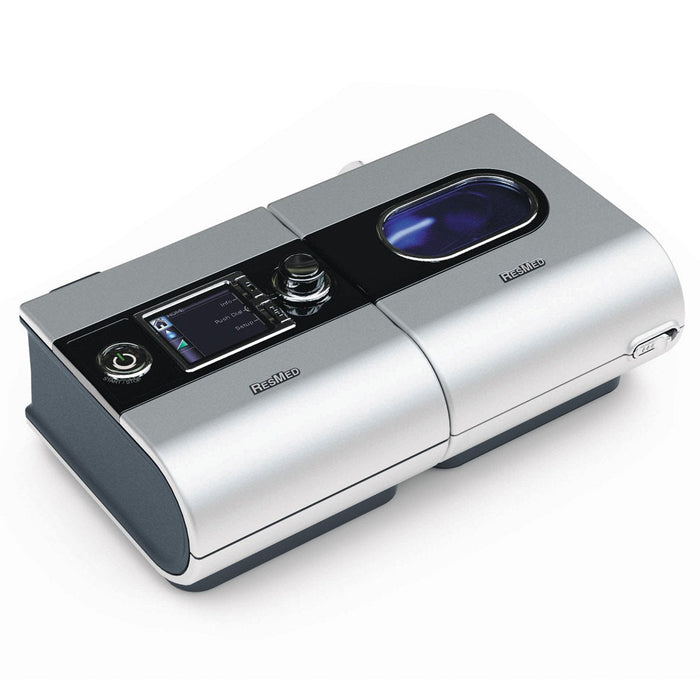 RESMED S9 VPAP with Humidifier
Rx Notice
Buying CPAP replacement parts i.e.
(CPAP mask assembly kits) does not require a prescription and ensures everyone struggling with sleep apnea can enjoy a full night's rest! Simply select your mask size and add to your cart.
The CPAP Frame, Cushions and Headgear are packaged separately but will ship together.
A Prescription Is Required for all CPAP machines and Humidifiers. Please refer to our Prescription Policy if you have questions.
Sold out
Original price
$699.00
-
Original price
$699.00
 Before Your Is Processed 
WARRANTY INFORMATION
6 month warranty

ENHANCED AUTO BiLEVEL THERAPY
All Auto-BiLevel machines adjust overall therapy levels -- on both inhalation and exhalation -- to ensure you're receiving the optimal pressures for successful bilevel sleep therapy. The S9 VPAP Auto takes this a step further with an enhanced AutoSet algorithm and Easy-Breathe expiratory pressure relief (EPR™) dynamically adjusting pressure throughout each breath for maximum comfort.
QUITLY CAPABLE EASY-BREATHE MOTOR
The S9's Easy-Breathe motor lowers average radiated sound levels to just 24dBA. In addition ResMed has reduced conducted noise levels through the breathing tube by 78%. When fully operational the S9 series is no louder than normal breathing!
EASY-BREATHE EPR
ResMed has updated the clinically proven Easy-Breathe EPR waveform. Easy-Breathe EPR adjusts pressures during each breath naturally adapting to your breathing cycle to make transitions between inhalation and exhalation flow more easily and feel more natural.
MASK-FIT MADE EASY
The S9's Mask-Fit feature is simple and effective. It offers three settings: Nasal, Pillow and Full Face. With the touch of a button you select your mask style and then the Mask-Fit system will run a quick diagnostic to ensure your mask is sealing properly. If your mask needs adjustment the system will alert you so that you can correct any fitting problems you may have prior to starting therapy.
DATA RICH
The S9 allows you to view a snapshot of your sleep therapy directly on the device. Designed to provide daily feedback and encouragement, the Sleep Quality Indicator identifies usage, leak and AHI information. In addition the Sleep Report offers compliance and therapy data for up to 365 days. Data available includes average usage, used hours, days used, run hours and pressure.  
Refurbished Units Can not be linked to My Air App or AirView
SD Card Included