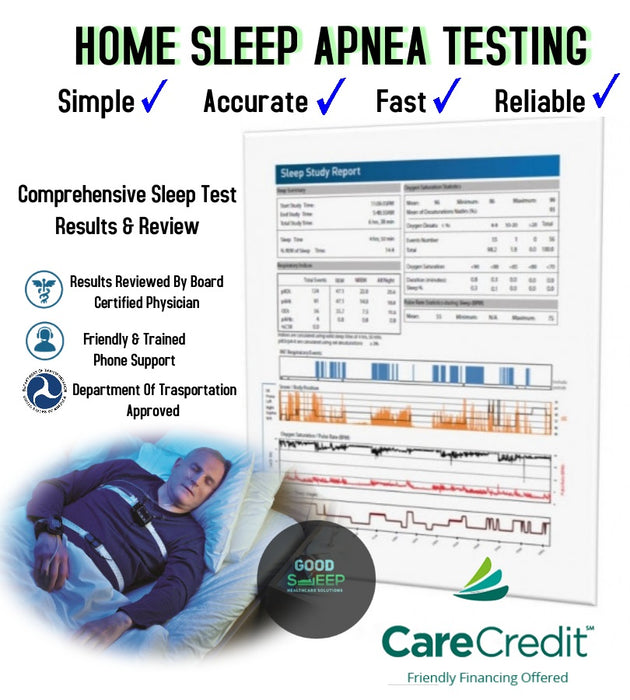 Home Sleep Apnea Testing
Rx Notice
Buying CPAP replacement parts i.e.
(CPAP mask assembly kits) does not require a prescription and ensures everyone struggling with sleep apnea can enjoy a full night's rest! Simply select your mask size and add to your cart.
The CPAP Frame, Cushions and Headgear are packaged separately but will ship together.
A Prescription Is Required for all CPAP machines and Humidifiers. Please refer to our Prescription Policy if you have questions.
Original price
$400.00
-
Original price
$400.00
Looking for a simple solution to diagnosing and treating sleep apnea...start with our at home sleep test. We will send a sleep test unit to your home. Follow the instructions provided, sleep with the test unit for one night and send it back to us via pre-paid shipping.

Our Type II (7 Channel) Home Sleep Apnea Test is FDA Approved, DOT & FAA Certified
No prescription is required. Our testing process is overseen by our Board Certified Sleep Physicians.
Our Home Sleep Apnea Test Comes With 24-hour technical support.
Your test data will be available within 3-4 business days!
An independent board-certified sleep physician at Good Sleep will review the data captured by the home sleep test unit, which includes blood oxygen saturation, breathing patterns, respiratory effort, body position, heart rhythms, and other bioelectric information. You will be notified of the results of your test. Should sleep apnea be detected, the physician will also have recommendations/ a Doctor's Note for your treatment.

*** No Prescription Required If Paying Out-Of -Pocket ***