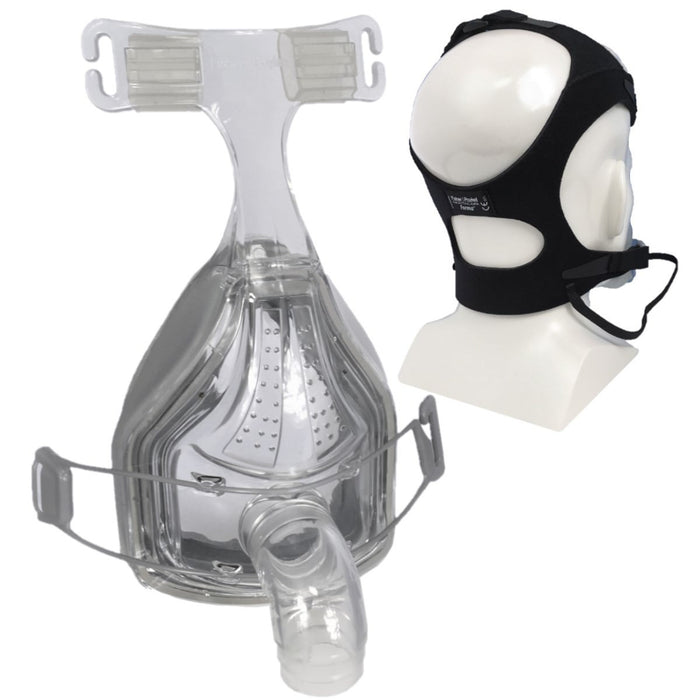 Forma Full Face Mask - Assembly Kit
Rx Notice
Buying CPAP replacement parts i.e.
(CPAP mask assembly kits) does not require a prescription and ensures everyone struggling with sleep apnea can enjoy a full night's rest! Simply select your mask size and add to your cart.
The CPAP Frame, Cushions and Headgear are packaged separately but will ship together.
A Prescription Is Required for all CPAP machines and Humidifiers. Please refer to our Prescription Policy if you have questions.
Save

$29.00
Save

$10.00
Original price
$69.00
-
Original price
$69.00
Headgear Included 
*Headgear Shipped Detached From CPAP Mask Frame
The Forma Full Face CPAP Mask with Headgear features a FlexiFoam™ Cushion that helps conform to your unique facial features.  The uniquely designed mask base helps to stabilize your mask and prevent pressure leaks, and along with the auto-contouring fit, you are sure to experience minimal leakage throughout the night.  The quiet air diffuser helps to exhale up and away from you and your partner to minimize disturbances as you sleep.  Comfortable and effective headgear features a glider strap that helps to move with you to hold your mask in place without a tight feeling.