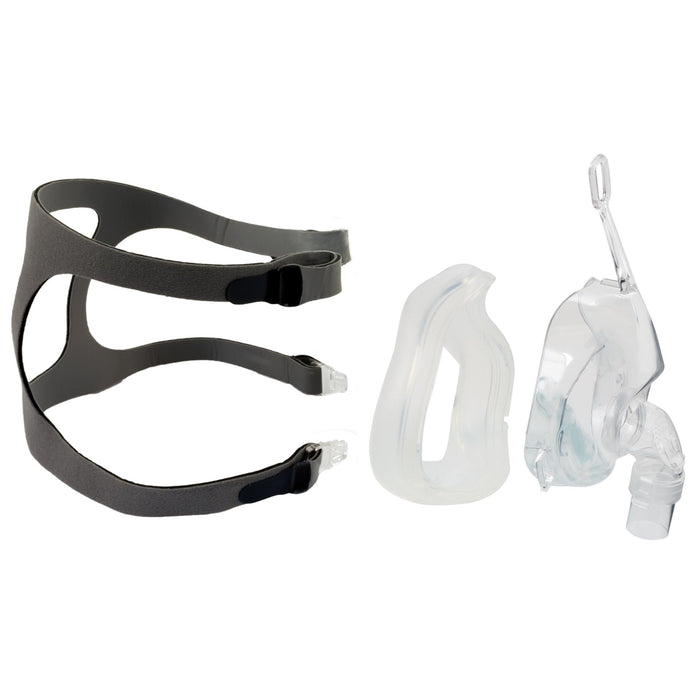 DreamEasy Full Face CPAP Mask - Assembly Kit
Rx Notice
Buying CPAP replacement parts i.e.
(CPAP mask assembly kits) does not require a prescription and ensures everyone struggling with sleep apnea can enjoy a full night's rest! Simply select your mask size and add to your cart.
The CPAP Frame, Cushions and Headgear are packaged separately but will ship together.
A Prescription Is Required for all CPAP machines and Humidifiers. Please refer to our Prescription Policy if you have questions.
Save

$4.00
Save

$4.00
Original price
$59.00
-
Original price
$59.00
Headgear Included
*Headgear Shipped Detached From CPAP Mask Frame
The DreamEasy full face CPAP mask provides a superior seal with its removable Comfort Cushion which conforms around the nose and facial contours reducing the risk for mask leaks.
Features
Quick-release clips allow for easy mask removal without the need for headgear readjustments
Equipped with a 360 rotational elbow the DreamEasy allows for freedom of movement when sleeping for a comfortable night's rest
Full face design is perfect for patients whose therapy is compromised by mouth breathing
Extremely lightweight and durable
Headgear with cloth hook and eye fasteners provide maximum versatility and movement
360 rotational elbow with standard 22 mm tubing connector
The comfort cushion is made with medical liquid silicone that is completely odorless and latex free
Comfort cushion can be removed for easy cleaning
Ergonomic design is airtight
Vent hole provides effective CO2 washout
Dishwasher safe for easy cleaning