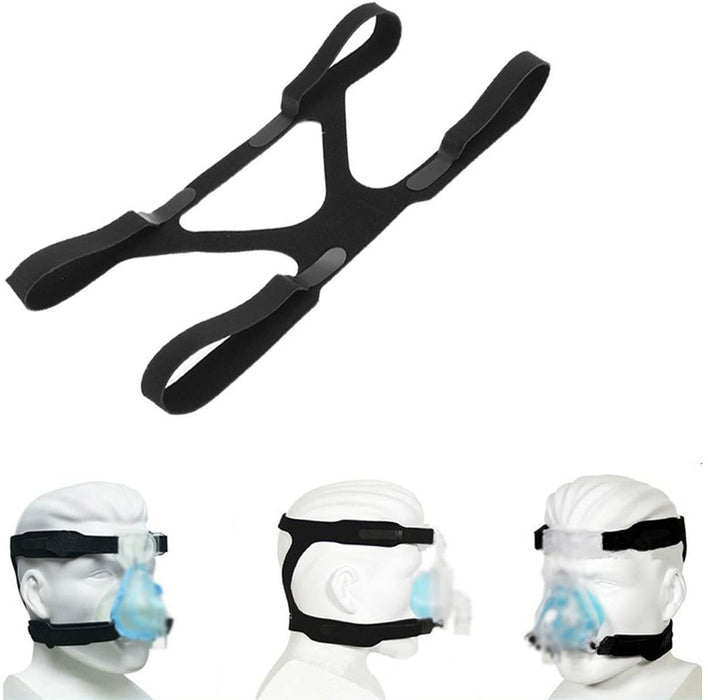 Universal Replacement CPAP Headgear
Rx Notice
Buying CPAP replacement parts i.e.
(CPAP mask assembly kits) does not require a prescription and ensures everyone struggling with sleep apnea can enjoy a full night's rest! Simply select your mask size and add to your cart.
The CPAP Frame, Cushions and Headgear are packaged separately but will ship together.
A Prescription Is Required for all CPAP machines and Humidifiers. Please refer to our Prescription Policy if you have questions.
Original price
$18.99
-
Original price
$18.99
Universal CPAP Mask Headgear
The Universal Headgear designed for ResMed Mirage Masks, Philip Respironics Mask and other brands' masks with 4 connections is a high quality, convenient, comfort-inducing device designed to work with a plethora of CPAP masks. The universal headgear is exceptionally well-constructed and easy to put on - to use, simply wrap the device around your head and then proceed to personalize your fit by adjusting the straps. The universal headgear has two sets of adjustable straps so you'll be able to create a customized feel without issue or hassle. The universal headgear comes in standard universal size.
Compatible with:
ResMed Masks:
Mirage Micro Nasal CPAP Mask
Ultra Mirage II Nasal CPAP Mask
Mirage Activa LT Nasal CPAP Mask
Mirage Quattro Full Face CPAP Mask
Ultra Mirage Full Face CPAP Mask
Mirage Activa Nasal CPAP Mask
Mirage Micro for Kids Nasal CPAP Mask
Mirage SoftGel Nasal CPAP Mask
Mirage FX Nasal CPAP Mask

Philip Respironics Masks:
Amara Full Face Mask
Amara Gel Full Face Mask
ComfortGel Blue Full Face Mask
Original ComfortGel Full Face Mask
ComfortClassic Nasal Mask
Fusion Nasal Mask
Select & Gel Blue Nasal Mask
EasyLife Nasal Mask
TrueBlue Gel Nasal Mask
Profile Lite Nasal Mask

Fisher & Paykel Masks:
Eson Nasal Mask
FlexiFit 405 Nasal Mask
FlexiFit 406 Petite Nasal Mask
FlexiFit 407 Nasal Mask
Zest Nasal Mask
Lady Zest Q Nasal Mask

SleepNet Masks:
IQ Blue Nasal Mask
MiniMe 2 Nasal Mask
Mojo Gel Full Face Mask

De Vilbiss Masks:
EasyFit Nasal Mask
D100, FlexSet Gel Nasal Mask

And other brands' mask with similar 4 connections.

Package Includes:
1 headgear only.